Garden Nursery and Landscaping Services in Clarion County, Pa.
Family owned and operated since 1997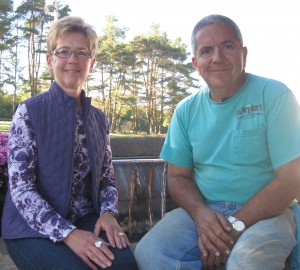 We're Bob and Greta Sawyer, and we look forward to serving you with our garden nursery and landscaping services. Meet our family, and let us help you enhance your home garden and property with beautiful perennials, shrubs and trees.
And our landscaping services team, with Bob at the helm, is ready to help you get the perfect design you need to beautify your home's surroundings.
How It All Began
A little history on our company
Around 20 years ago, Bob Sawyer saw a business opportunity open up in Clarion County, Pa. when a few local nurseries shut their doors. He had just built his own home and knew it needed some landscaping. And since the landscaping service he had used, closed, Bob realized that there was a market for nursery and landscaping services in this area. And so he decided to fill that need with a company of his own.
Personable Service with a Smile
Local residents know they can depend on Sawyer's
Our company has been serving residents of Clarion County, Jefferson County and Armstrong County for over 15 years now and we enjoy a high level of customer satisfaction. Return customers are our norm, and we intend to keep it that way – one sale or job at a time.
Just Look for the Historic Mail Pouch Barn
A landmark on our own property
The Sawyer's Nursery and Landscaping property was formally a dairy farm complete with a large Mail Pouch Barn that was built in the 1900s.
The Mail Pouch Tobacco sign on two sides of our barn was originally painted during the WWII era. And in 1965, Mail Pouch Tobacco barns were considered historic landmarks by the Highway Beautification Act led by Ladybird Johnson herself. Although certain outdoor advertising was controlled and removed due to the Act, the historic significance of the Mail Pouch signs have protected barns like ours.
Today, our historic Mail Pouch Tobacco sign sports a newer coat of paint and our barn is used to store equipment and materials for Sawyer's Nursery and Landscaping.